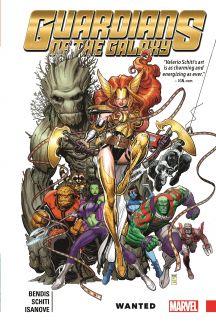 Guardians of the Galaxy: Wanted includes many of the characters seen in the movies such as Star Lord, Groot, Rocket, Gamora, and Drax. However, it also includes other Marvel characters such as Kitty Pryde and The Thing. In the book, the characters go and free people enslaved on multiple planets. They place a special emphasis on freeing the Skrulls from the Badoon.
This book had fantastic illustrations and a good plot. It gives a lot of insight on the characters in the Guardians of the Galaxy comics and movies as well as adding a lot to the universe. I have never read a Guardians of the Galaxy comic before, but just seeing the movies gives enough knowledge to read this. The humor is absolutely fantastic. I don't have many complaints other that the first few planets they free seem like they have same story.
When Rocket and The Thing are together, they are hilarious. They work so well with each other and deliver very memorable lines that are similar to the humor from the movies.
Reviewed by Payton, Grade 10, Glen Allen Library