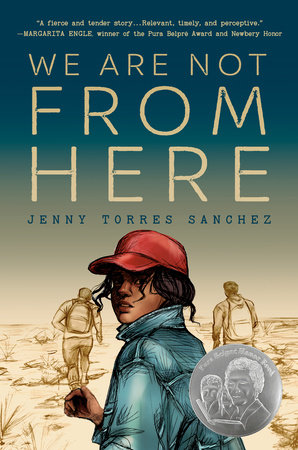 Place a hold on the ebook or print book!
We Are Not From Here by Jenny Torres Sanchez is the story of three teenagers who are growing up in the barrio in Guatemala. Although Pulga, Pequena, and Chico are not related, they say blood doesn't matter – they're family. Life is hard in the barrio, money is tight and crime is prevalent. Pulga says that in some places terrible news is unexpected but in the barrio, it is not. Pulga dreams of escaping to the United States to lead a better life. He has been researching and drawing maps of the route he will use to escape for years. Even though life is dangerous in his town, he knows escaping to the United States is a harrowing journey that not everyone survives. However, after Pulga and Chico witness a violent crime and Pequena is being forced into marriage with a criminal, they know the time has come to run. But will they be able to survive the journey to the United States? Without passports or much money, the harrowing journey to freedom will require Pulga, Chico, and Pequena to travel on buses, trains (La Bestia also known as the death train) and walk across a desert. They will also need to rely on the kindness of strangers when trusting people is frowned upon. Although this journey is dangerous; it is a risk they are willing to take for the possibility of a better life.
I thought this book was intense. The author did a great job of depicting the brutal reality of a dangerous journey. I liked that it was written in the first person perspective. Pulga and Pequena alternate narrating the chapters. I thought it was a great way of telling two sides of the same story.
The most memorable part of this book was when I read the author's note at the end of the story. Although I knew this was a realistic fiction book, reading about the real life details the author uses makes the plight and escape of three teenage immigrants much more harrowing and heartbreaking.
Submitted by James, Twin Hickory Library